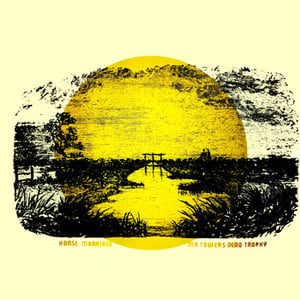 $

10.00
Mr. Tower's Dead Trophy is a collection of songs written by Dave McPeters (Old Softy) and Stewart Adams (Ugly Husbands). Recorded in their hometown of Goleta, California, the album is honest and low-key, reflecting the boy's love of simple and sentimental music. Recorded by Sean McCann who provides additional assistance on drums, violin and keyboard throughout the album.
This is the weeper music of Summer afternoons spent kissing dogs, hucking rocks into creeks, and jamming sticks down snake-holes.
Currently the album is streaming in full at their site: www.horsemarriage.bandcamp.com
Released in an edition of 360 LPs, featuring silk-screened front and back covers and a hand numbered booklet insert.
Roll Over Rover -ROR015
Dog Family Records -DFR002
International please email first!
John.glue@gmail.com